The 2021-2022 Regular Season Starts This Week!
High School Sport Stats wishes all athletes and coaches the best of luck in the new season. We hope for all good things and that the athletes have fun in competition and everyone stays safe. Coaches don't forget to have your final scores posted ASAP following the end of all games.
Post your stats for your students. If you have any questions, feel free to contact HSSS.
Good luck to CBA and CNS Football as they compete this weekend in the NYSPHSAA championship semi-finals.
High School Sport Stats
Congratulations to All Fall 2021 Athletes
Section III Football Teams Continue on in Regional and State Playoffs:
HSSS is providing schedules, opponent rosters, and the platform for reporting quarter and final scores for all games played going forward.
As always, feel free to check out the daily scoreboard for results posted by coaches at High School Sport Stats: All Scores.
Ticketing information for the NYSPHSAA State Championships can be found on the state website at www.nysphsaa.org
As the winter sports season kicks off, HSSS will be supporting:
Section III Boys' Basketball
Section III Girls' Basketball
Section III Girls' Winter Volleyball
Section VI Boys' Basketball
If you represent a sport or a section that we are not currently supporting and would like to find a great platform for your sport or you would like to know more, feel free to contact us in the Contact link on the main menu bar.
If you are a business looking for an opportunity to present yourself or your business, HSSS does have an advertisement and sponsorship campaign. Contact us in the Contact link on the main menu bar for more information.
High School Sport Stats
A New Page Is Up in the Links Area of the Main Menu
Check out the new link: Teams and Tournaments Seeking Games: 2021-2022.
If you would like to have a post and are looking for games to complete your schedule or fill slots in a tournament, there is contact information or email Phil at pkabel@frontiernet.net.
All posts would remain up until HSSS receives word that the spot is filled, or the dates for your event have passed.
Thank you,
HSSS
High School Sport Stats Exceeds 2 Million Page Views!
Since being invited in to Section III in the fall of 2019, and being here through 2020-2021, HSSS Announces:
This week HSSS has exceeded 2 million page views.
in the Past 28 days of the Fall 2021 Season there have been 150,000 views.
HSSS is now in the Top 5 Google searches for High School Sports Stats.
Section III is getting seen and found in many searches. Committees and Coaches, be sure to have your pages updated with your schedules, scores, rosters, and stats. Your student-athletes and their accomplishments on the field are being seen.
HSSS
Announcing a New Feature for HSSS for Teams, Fans, and the Media:
Love Statistics?
As the 2021-2022 school year begins and HS sports return, HSSS is offering a way to take a season's stats and created personal "Dashboards" in the display of statistics for each team. Not only will fans love to track their teams and their teams' opponents, but as more games are broadcast, this feature could benefit live announcers and provide them with the season's stats for both teams.
Choose a stat and display that stat as circle graphs, line graphs, bar graphs, and data tables.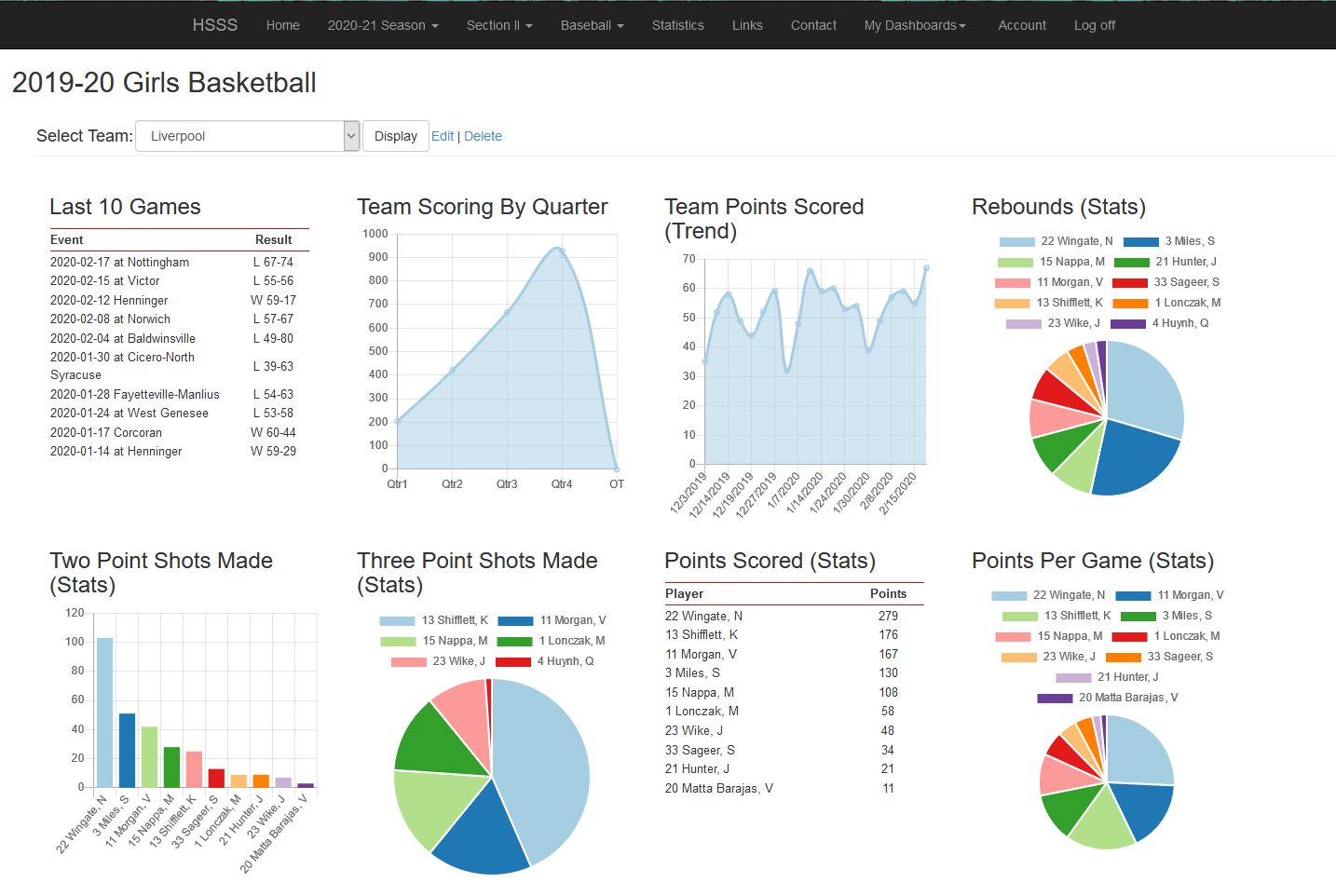 Simply "Register to subscribe to notifications and purchase dashboards!" and once you register, you will receive instructions on how to register for a sport for season.
The cost is $20 per season to create a dashboard that can be applied to all teams in the section. Open two windows, and you can side-by-side compare teams.
Support HSSS as we continue to provide season management websites to the sports in your section.
HSSS is working on updates to the features of this offering all the time.
More information about Dashboard can be found here: Click Here.
Thank you, and Enjoy!
Phil and Joe