Website Updates to 2021-2022 on August 1, 2021
HSSS would like to invite all 2020-2021 coaches or their assistants to log on to their team pages and update their rosters, schedules, game results, and most important – player stats. HSSS will archive everything for you forever.
Fall coaches be ready. You will be able to enter your schedule, import and edit your rosters, and update all your team information beginning August 1st.
When "import" your rosters (and player's stats) from 2020-2021 this next year. Boys' Soccer and Boys' and Girls' Basketball will have stats for your starters who were 10th graders in 2019-2020 for three years. Teams who were able to use the site in 2020-2021, you will be able to import your rosters which will allow you to keep all player stats inputted. The import is based on the player's grade level. If you are going to clean up stats be sure that your underclassmen's names are spelled the same from 19-20 and 20-21 seasons.
For more information and contact information if you have questions, check out the Contact link for Phil's contact information.
HSSS
Announcing a Service to the High School Sports Community
Two New Camps Posted 5/12.
HSSS has created a link in the "Links" section of the site for Summer Camps and Leagues associated with scholastic partners (colleges, universities, and high schools) to post a document about their instructional programs and camps for students. So if you are holding a camp or skills clinic in the Section III or WNY area and would like a posting, send your materials in document form, and we will get them posted.
HSSS does not promote nor endorse any one posting. We are providing this page as informational only for the student-athletes and families of this Section.
You can check it out.
HSSS
Links to the 2021 Spring Sectional Tournaments: Boys' Lacrosse, Softball;, and Baseball
2021 Boys' Lacrosse Sectionals
All updates, sites, times and results will be availalbe here from the coaches and the committees.
HSSS
Tips and Handbook Pages for Coaches and Administrators
In the past year, we have created "cheat sheets" with tips and explanations for coaches on how to use the website and take advantage of some of the features built in.
These docs were located in the FAQ section of your Coach Tools.
As the site has evolved, so has the need to rework a few of the documents. As we do, we are posting them on a new page. Access to that page is now in the Links on the main menu bar. So for a while between your FAQ's and the documents we will post on this new page, if you need or would like to see anything posted, feel free to reach out.
HSSS
Announcing a New Feature for HSSS for Teams, Fans, and the Media:
Love Statistics?
HSSS is offering a way to take a season's stats and created personal "Dashboards" in the display of statistics for each team.
Choose a stat and display that stat as circle graphs, line graphs, bar graphs, and data tables.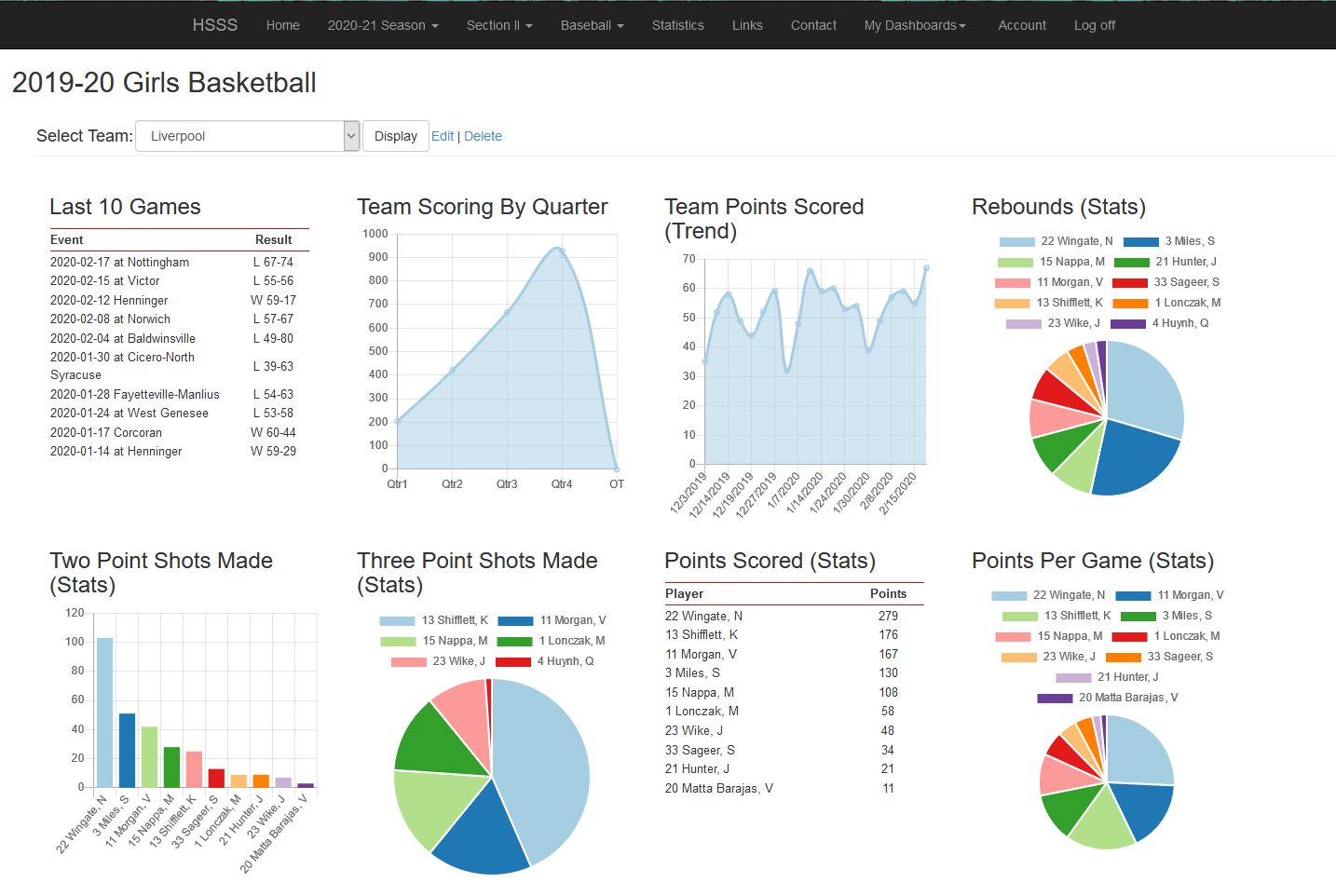 Simply "Register to subscribe to notifications and purchase dashboards!" and once you register, you will receive instructions on how to register for a sport for season.
The cost is $20 per season to create a dashboard that can be applied to all teams in the section. Open two windows, and you can side-by-side compare teams.
Support HSSS as we continue to provide season management websites to the sports in your section.
HSSS is working on updates to the features of this offering all the time.
More information about Dashboard can be found here: Click Here.
Thank you, and Enjoy!
Phil and Joe