May 15, 2021
Tips and Handbook Pages for Coaches and Administrators
In the past year, we have created "cheat sheets" with tips and explanations for coaches on how to use the website and take advantage of some of the features built in.
These docs were located in the FAQ section of your Coach Tools.
As the site has evolved, so has the need to rework a few of the documents. As we do, we are posting them on a new page. Access to that page is now in the Links on the main menu bar. So for a while between your FAQ's and the documents we will post on this new page, if you need or would like to see anything posted, feel free to reach out.
HSSS
---
May 12, 2021
Announcing a Service to the High School Sports Community
Two New Camps Posted 5/12.
HSSS has created a link in the "Links" section of the site for Summer Camps and Leagues associated with scholastic partners (colleges, universities, and high schools) to post a document about their instructional programs and camps for students.
HSSS does not promote nor endorse any one posting. We are providing this page as informational only for the student-athletes and families of this Section.
You can check it out.
HSSS
---
Apr 25, 2021
Announcing a New Feature for HSSS for Teams, Fans, and the Media:
Love Statistics?
HSSS is offering a way to take a season's stats and created personal "Dashboards" in the display of statistics for each team.
Choose a stat and display that stat as circle graphs, line graphs, bar graphs, and data tables.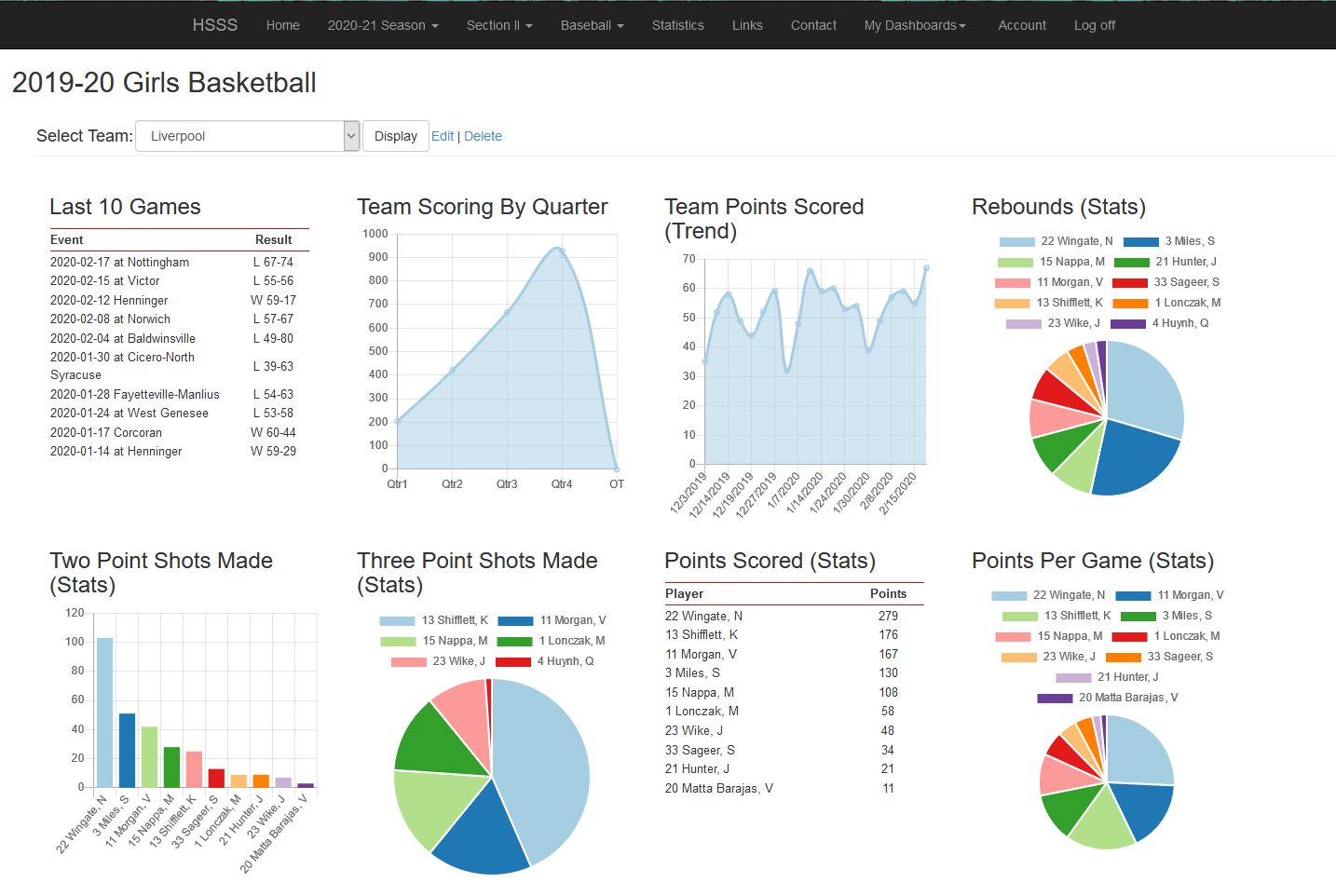 Simply "Register to subscribe to notifications and purchase dashboards!" and once you register, you will receive instructions on how to register for a sport for season.
The cost is $20 per season to create a dashboard that can be applied to all teams in the section. Open two windows, and you can side-by-side compare teams.
Support HSSS as we continue to provide season management websites to the sports in your section.
HSSS is working on updates to the features of this offering all the time.
More information about Dashboard can be found here: Click Here.
Thank you, and Enjoy!
Phil and Joe
---
Apr 24, 2021
Notifications for Parents, Family and Fans, and the media:
Signing up for Notifications via Email or your Device
HSSS is offering an interface with your student-athlete's sport each season.
For $1.99/month on a PayPal account, you can be instantly notified when changes are made to a team page by a coach or by the school.
A game is canceled due to weather or other factor
A game or game time is changed or rescheduled
The coach posts a team announcement
Game scores are posted. Game Stats are posted.

Rather than having to return to the website and refresh screens, you will know when changes have been posted.
Note: no information is ever posted behind a paywall. All information is available through HSSS all the time. Notifications are a convenience we are offering that keep you right in touch with your student-athlete's team and schedule.
More information about Notifications can be found here: Click Here.
Thank you, and Enjoy!
Phil and Joe
---
Apr 23, 2021
Spring Sports Return with a Sectional Tournament in June - 2021
In April and through the Spring sports' season, High School Sport Stats will be providing the official websites for Section III baseball, softball, and boys' lacrosse.
In the week of 4/25, the sites with classes and teams will being to populate. Baseball, Softball, and Lacrosse coaches can register and be approved for access. Remember that this process does require your chairmen to see the request and the process can take a little time. If you need assistance send HSSS an email in the contact section.
We are getting the sites ready in cooperation with the committees. There will be a spring sectional tournament. High School Sport Stats is excited and renewed to be returning to Section III as school and the world starts to find their way back to a new-old-normal.
Parents, Players, Fans, media, and everyone interested in following your team and staying up to the minute with updates from your team coaches: check out the subscription feature for notifications. You can sign up to follow your team, and any other school and teams in the active season. There is a fee, and it is in support of the work that HSSS does for the Section. Check it out.
Contact use in the "Contact" section if you have any questions.
High School Sport Stats
---
SPORTS SUPPORTED
| | | |
| --- | --- | --- |
| BASEBALL | BASKETBALL | BOWLING |
| FIELD HOCKEY | FOOTBALL | GOLF |
| HOCKEY | LACROSSE | SOCCER |
| SOFTBALL | VOLLEYBALL | |
COMING SOON
| | | |
| --- | --- | --- |
| CROSS COUNTRY | SKIING | |