Sep 19, 2021
High School Sport Stats Exceeds 2 Million Page Views!
Since being invited in to Section III in the fall of 2019, and being here through 2020-2021, HSSS Announces:
This week HSSS has exceeded 2 million page views.
in the Past 28 days of the Fall 2021 Season there have been 150,000 views.
HSSS is now in the Top 5 Google searches for High School Sports Stats.
Section III is getting seen and found in many searches. Committees and Coaches, be sure to have your pages updated with your schedules, scores, rosters, and stats. Your student-athletes and their accomplishments on the field are being seen.
HSSS
---
Sep 6, 2021
Notifications for Parents, Family and Fans, and the media:
Signing up for Notifications via Email or your Device
HSSS is offering an interface with your student-athlete's sport each season.
For $1.99/month on a PayPal account, you can be instantly notified when changes are made to a team page by a coach or by the school.
A game is canceled due to weather or other factor
A game or game time is changed or rescheduled
The coach posts a team announcement
Game scores are posted. Game Stats are posted.

Rather than having to return to the website and refresh screens, you will know when changes have been posted.
Note: no information is ever posted behind a paywall. All information is available through HSSS all the time. Notifications are a convenience we are offering that keep you right in touch with your student-athlete's team and schedule.
More information about Notifications can be found here: Click Here.
Thank you, and Enjoy!
Phil and Joe
---
Sep 5, 2021
Announcing a New Feature for HSSS for Teams, Fans, and the Media:
Love Statistics?
As the 2021-2022 school year begins and HS sports return, HSSS is offering a way to take a season's stats and created personal "Dashboards" in the display of statistics for each team. Not only will fans love to track their teams and their teams' opponents, but as more games are broadcast, this feature could benefit live announcers and provide them with the season's stats for both teams.
Choose a stat and display that stat as circle graphs, line graphs, bar graphs, and data tables.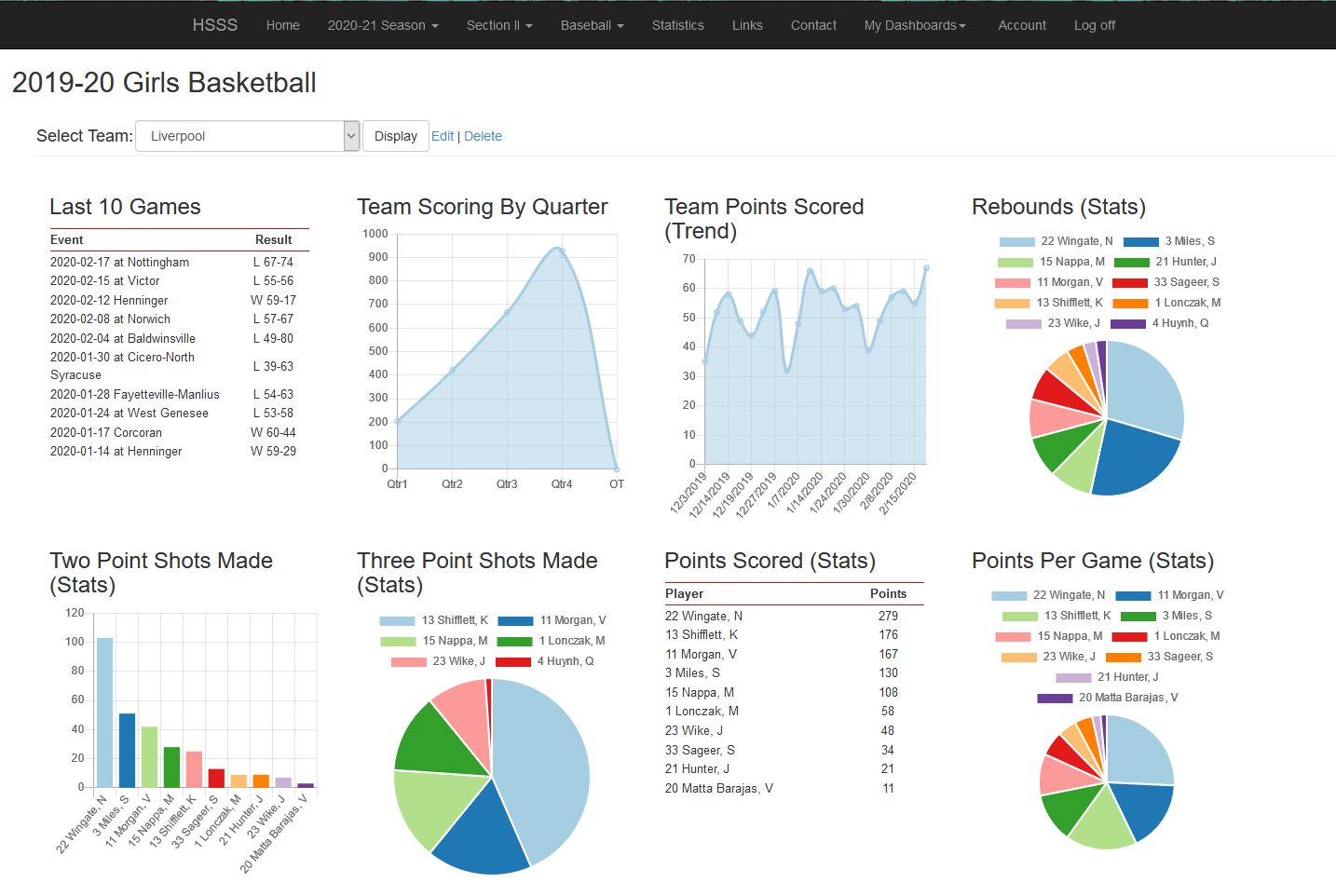 Simply "Register to subscribe to notifications and purchase dashboards!" and once you register, you will receive instructions on how to register for a sport for season.
The cost is $20 per season to create a dashboard that can be applied to all teams in the section. Open two windows, and you can side-by-side compare teams.
Support HSSS as we continue to provide season management websites to the sports in your section.
HSSS is working on updates to the features of this offering all the time.
More information about Dashboard can be found here: Click Here.
Thank you, and Enjoy!
Phil and Joe
---
Aug 28, 2021
Welcome to the 2021-2022 School Year and Sports Seasons
8/28/21: As the regular season approaches with the start of the school year. Coaches are encouraged to be sure they are registered. If you were registered for any sport before, you can log on and request access to the fall sport you are coaching on your coach tools. New registrants, register for access, and you have to be approved by your chairperson.
Once you are registered, be sure to enter your schedules and rosters in preparation for your first game.
in 2019, Section III (NYSPHSAA) agreed to work us, and despite the disruptions in 2020-2021, we look forward to being back full-force in 2021-2022. HSSS has agreed to provide the sites. Check out the ways that the community can support the work that we are doing.
HSSS is currently accepting sectional members from New York State. We are also encouraging any league looking for a simple season's management tool to contact us for further information.
---
Aug 25, 2021
News for the Month of August 2021
8/25/21: Section VI (NYSPHSAA): Today by agreement, High School Sport Stats will be the Official Website for Section VI (NYSPHSAA) Boys' Basketball for 2021-2022. Thank you to the committee for their trust and support. The website will be launched very soon.
Section III (NYSPHSAA) Boys' and Girls' Soccer, Football, and Field Hockey coaches can get registered and enter schedules and rosters in preparation for the opening of their seasons in a week from now. Good luck everyone.
Winter Sports Pages for Section III will launch on 10/1/21. Coaches from 20-21 can still log on and correct, add stats, or add rosters from last year before that.
Opportunities for Coaches, Parents, and Fans of the Fall Sports We Support: Check out the Parent Notifications you can sign up for. While HSSS places nothing behind a paywall, you can receive noficiations or emails on your device when results, stats, or updated to the pages you are following are made. This supports HSSS in the work we are doing for the section(s).
HSSS
---
SPORTS SUPPORTED
| | | |
| --- | --- | --- |
| BASEBALL | BASKETBALL | BOWLING |
| FIELD HOCKEY | FOOTBALL | GOLF |
| HOCKEY | LACROSSE | SOCCER |
| SOFTBALL | VOLLEYBALL | |
COMING SOON
| | | |
| --- | --- | --- |
| CROSS COUNTRY | SKIING | |