Welcome Section VI Boys' Basketball 2021-2022
High School Sport Stats and the Section VI Boys' Basketball Committee reached an agreement this week to renew old associations and work together to provide the boys' basketball website to the section beginning with the 2021-2022 season.
HSSS is a site that makes the management of a season simpler for coaches and team representatives while leading to the correct seeding, brackets creation, and management of the post-season sectional tournament.
HSSS is pleased to be supporting Section VI boys' basketball and we look forward to providing a world-class experience for the teams, coaches, student-athletes, families, fans, and the media who love to follow HS basketball in WNY.
Coaches can start to register and be approved by clicking on the Register Link on the Main Menu.
HSSS would also like to invite participation from the community and has opportunities for local businesses and business owners to have a presence with this new project. Use the contact link in the menu bar to email Phil for more informaion.
Notifications for Parents, Family and Fans, and the media:
Signing up for Notifications via Email or your Device
HSSS is offering an interface with your student-athlete's sport each season.
For $1.99/month on a PayPal account, you can be instantly notified when changes are made to a team page by a coach or by the school.
A game is canceled due to weather or other factor
A game or game time is changed or rescheduled
The coach posts a team announcement
Game scores are posted. Game Stats are posted.
Rather than having to return to the website and refresh screens, you will know when changes have been posted.
Note: no information is ever posted behind a paywall. All information is available through HSSS all the time. Notifications are a convenience we are offering that keep you right in touch with your student-athlete's team and schedule.
More information about Notifications can be found here: Click Here.
Thank you, and Enjoy!
Phil and Joe
Announcing a New Feature for HSSS for Teams, Fans, and the Media:
Love Statistics?
As the 2021-2022 school year begins and HS sports return, HSSS is offering a way to take a season's stats and created personal "Dashboards" in the display of statistics for each team. Not only will fans love to track their teams and their teams' opponents, but as more games are broadcast, this feature could benefit live announcers and provide them with the season's stats for both teams.
Choose a stat and display that stat as circle graphs, line graphs, bar graphs, and data tables.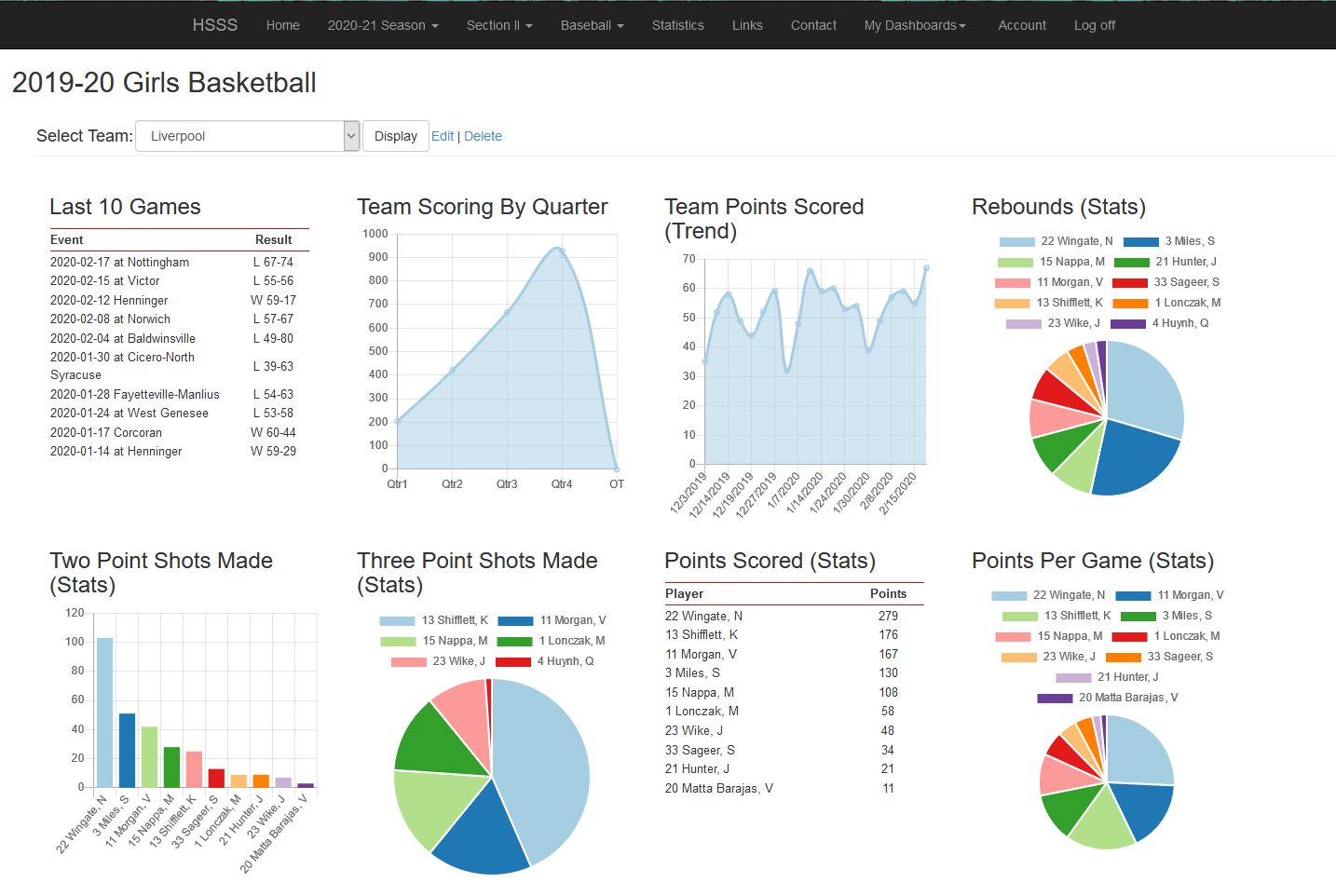 Simply "Register to subscribe to notifications and purchase dashboards!" and once you register, you will receive instructions on how to register for a sport for season.
The cost is $20 per season to create a dashboard that can be applied to all teams in the section. Open two windows, and you can side-by-side compare teams.
Support HSSS as we continue to provide season management websites to the sports in your section.
HSSS is working on updates to the features of this offering all the time.
More information about Dashboard can be found here: Click Here.
Thank you, and Enjoy!
Phil and Joe
A New Page Is Up in the Links Area of the Main Menu
Check out the new link: Teams and Tournaments Seeking Games: 2021-2022.
If you would like to have a post and are looking for games to complete your schedule or fill slots in a tournament, there is contact information and an email address.
All posts would remain up until HSSS receives word that the spot is filled, or the dates for your event have passed.
Thank you,
HSSS